February 1st, the day after the second National Interdisciplinary Education Conference (NIEC 2018), the Eindhoven team of the 4TU.Centre for Engineering Education organised the Education Innovation Day at TU Eindhoven (TU/e). I got the invitation to run two workshops on building an engineering body of knowledge in a hands-on learning environment. From the presentation "Expedition 2030" by the Dean of the Bachelors College Lex Lemmens, I soon found out why these workshops would be highly relevant: in the discussions about an updated strategy for education in 2030, TU/e has put a new dot on the horizon, where hands-on learning is a key asset in the Bachelor and Master programmes. Many other vision statements I have described in my report "Engineering Education in a Rapidly Changing World" may be brought to life as well.
"Learning-by-doing is going to be the new thing for us"
(Quote Lex Lemmens, TU/e)
From the presentation I understand that the rethinking of the university strategy focuses on the impact of six driving forces:
the rise of the digital technologies in the engineering profession and in higher education (ubiquitous content, need for digital intelligence, digital learning environment);
the increasing importance of professional skills beyond the engineering discipline;
the increasing global mobility of students and staff;
the convergence of digital, science, engineering and social disciplines;
the need to develop global innovation hubs to accelerate development cycles;
the need for more societal and industrial engagement.
Although the strategy is still in a nascent state, "on-campus" and "hands-on" education are the key words. They lead to the following three leading directions for the transformation:
Learners will create their own playlist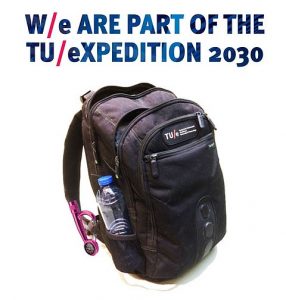 In 2030 all students in the classroom will be digital natives. The digitalisation of the learning environment and study materials enables the students to create their own playlists and compose personalised study programmes in line with the individual capacity, interest and ambition. From day one it makes the students responsible for their learning and makes them more aware that education is a preparation for life. TU/e foresees a transformation of the existing rigid curricular Bachelor and Master structures in highly flexible curricula in which each student has a high degree of freedom to build his or her study programme from separate modules, micro-credentials and nano degrees. These originate from an unbundling of the existing curricula in Eindhoven or can be taken from (qualified) programmes from other universities. Programme certificates will guarantee the quality of the individual degree programme. It will require an extensive upskilling of the teaching staff, new didactic and pedagogic learning systems and software that supports the teachers in tracking of individual competence development, and the students in planning and control of study activities. It will also require "flip-thinking" to turn traditional didactics, rules and regulations into enablers for personalised study programmes.
Hands-on learning labs will become the prime educational spaces
In spite of the rapidly growing student numbers, TU/e aims to transform the Bachelor and Master curricula into highly interactive programmes with 70% or more hands-on learning. Nowadays this is less than 30% of the study time. Hands-on learning will prepare students to become curiosity-driven makers and discoverers of their future careers. Hands-on learning  is a catch-all for problem-based, project-based, design-based or challenge-based education. For me hands-on learning is about equivalent to "learn how to engineer". It may include design and analysis work, experimentation, research work, conceive-design-build-operate projects (following the CDIO approach), where students work in multi- or interdisciplinary student teams, possibly in collaboration with stakeholders from industry or society. To accommodate such a hands-on learning environment, the university plans to invest in new physical learning environments, such as Innovation Spaces. They should develop into the prime educational spaces on the campus. One of the main educational buildings is already under major reconstruction works for a transformation into an Innovation Space. Also teaching staff will have to prepare for a major switch from mainly transferring content to merely coaching, monitoring performance and validating work. A challenge indeed. Do sufficient senior staff have the willingness and capability to act as a change agent?
Engineering education: interdisciplinary and embedded in an innovation ecosystem
The way we educate future generations no longer prepares them adequately for the skills and jobs of today. The idea that engineering students study mathematics and engineering sciences as separate disciplines, and then work to solve real world problems in today's economy, does not add up. The engineering profession in business as well as academia increasingly demands skills like systems thinking, interdisciplinary thinking and digital intelligence. TU/e explained their vision on the T-shaped professional: all engineering students will need a broad basis in engineering fundamentals of mechanical and electrical and chemical engineering and computer sciences and architecture. It will enable the students to collaborate effectively in multidisciplinary teams. Another vision however explained the attractiveness to educate an M-shaped professional, who has deep knowledge in one, and deep knowledge in one or two other engineering disciplines. The M-shaped professional is well equipped to collaborate in interdisciplinary teams. I doubt if professionals with deep knowledge in two or three engineering disciplines, do indeed have the capacity to be integrative: a mastery of different but similar disciplines does not necessarily make them interdisciplinary by itself. My favourite model is therefore the Π-shaped professional, who has deep knowledge in an engineering discipline and a good working knowledge of one or more branches of social sciences or humanities.
"Engineering students have to learn that people policies, environmental aspects, politics, economics or cultural values often override disciplinary expertise"
A strong collaboration between the university and industrial partners and institutes will be essential. TU/e therefore forms ideas to develop an innovation hub, the so-called TU/engine. In this innovation ecosystem researchers, students, entrepreneurs, companies and R&D professionals will collaborate in interdisciplinary flagship projects.
Building an engineering body of knowledge in a hands-on learning environment
Awareness
The aim of my workshops was the development of awareness of the impact that a major shift to a hands-on learning environment could have on the learning of the engineering body of knowledge. In such learning environment the mental organiser for staff and students is the thread of design work, project work, challenge-based education, etcetera.
This is in contrast with many today's curricula, where projects are often supplemental with Intended Learning Outcomes (ILO) that emphasise personal and interpersonal skills (communication, teamwork, creativity, initiative, leadership). In these curricula the courses in engineering fundamentals and disciplinary subject matter are often concluded by exams, mainly testing memorisation, application and understanding.
Technical depth: more important than ever
In the discussions about the increasing importance to develop "21st century skills" in an active hands-on learning environment, we tend to forget that in 2030 the mastery of deep working knowledge of engineering sciences will be more important than ever.Deep knowledge will remain the key for understanding the value and assessing the reliability and usability of the exponentially growing amount of information in our technological world. Also in 2030 creative solutions for engineering problems cannot emerge from a vacuum and will need a broad and ready availability amount of engineering domain knowledge.
Next Engineering Education Transformation
For ideation I showed the participants the so-called NEET (Next Engineering Education Transformation) project-centric curricular framework that is currently under development by MIT School of Engineering. Where students learn what they need to know to design innovative solutions for advanced machines, systems and processes that will be on the market in twenty to thirty years time. ILO's for the integrative learning of engineering knowledge and durable skills are defined per project and are tested by integral assessments within the projects. When TU/e adopts a similar (NEET) approach, and puts on top of that a mix with personalised learning, what exactly do we want the students to learn in these hands-on learning environments? How should we reformulate the ILO's for disciplinary content knowledge, harmonised and integrated with durable skills? How can we measure the formal disciplinary knowledge and competency levels that really matter? Or is there a way to avoid assigning marks after all, as Eric Mazur,  the well-known educator at Harvard, proclaims in his Assessment: the silent killer of learning?
Learning objectives, attainment levels, assessments and flip-thinking
The lively discussions in the workshops highlighted multiple concerns and ideas. A quick overview:
The major change in the role of the teacher, shifting from transferring content to coaching students in their development.
The conflicting goals of acquiring knowledge, developing skills and obtaining satisfactory project results; the need to integrate skills development in the proper sequence,  in the context of the project and the discipline.
The uncertainty in the attainable academic level and the completeness of the engineering body of knowledge. There was discussion about what level of completeness would be  required as a minimum for all students, and there were questions about the risk of too much zapping between subjects by the students.
The need for regular self-assessments by the students to define personal learning outcomes and study path and planning, develop preferred engineering roles and the required knowledge level for engineering fields of personal interest.
The assessment of the individual attainment levels of sub fields in engineering that are different per person: how can we find the balance between subjective assessment and assessment of the rigour of the engineering domain? Could one integrative summative assessment do the job on the basis of a personal portfolio?
Can we copy the concept of the Progress Test (VGT) of Maastricht University all students do four times a year, all at the same time, all with the same questions, to test the attainment level of knowledge and skills in their discipline?
The complexity of personal competence-based education: defining, controlling and tracing the development of personal ILO's.
The need to define the ILO's on programme level on a higher level of abstraction; accreditation agencies have to get involved as well.
The lack of staff expertise to supervise interdisciplinary projects, and coach students of different seniority, from different disciplines in different roles: need for team teaching.
The need for different educational spaces than the traditional classrooms.
The need to build community: departmental structures will be broken down for students as well as staff.
Both workshops identified the need to flip our thinking in almost all aspects. Nothing will be trivial. The change will have to be radical and you can't implement only parts of such new strategy. Somebody stated "You can't be just a little bit pregnant!"